You remember the Three Generation Family Tree of Life Pendant, right? A beautiful custom piece featuring three amazing gemstones? Well, I had a little extra of all three gems left over and I wanted to make something else from the amazingly stunning gems.
So I came up with a lovely, feminine design showing off these amazing stones.
Featuring AAA Quality gemstones in Chrome Diopside (also known as "Siberian Emerald"), Micro-faceted Peridot and Imperial Topaz, this stunning piece is set in sterling silver.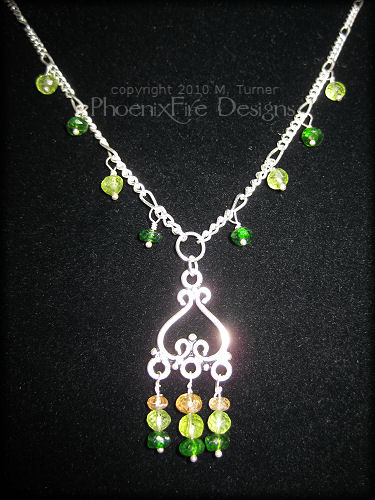 A 16″ silver Figaro chain is accented with four Chrome Diopside and four Peridot gemstones and then the center focal point features six additional Chrome Diopside and Peridot as well as three amazing, honey-colored Imperial Topaz gems.
It's dainty and delicate but the colors are so striking. Easily dressed up for a special occasion, this piece is simple enough to pair with your favorite pair of jeans as well. I'm debating whether or not I want to keep this beauty for myself! 🙂 I may be persuaded to list it so let me know if you're interested.