And now for something completely different! Most everyone knows me for my jewelry because well, it's kinda mostly what I do. 😉 But I really wanted to do something different so I tried my hands at this. These were made for a swap on Craftster.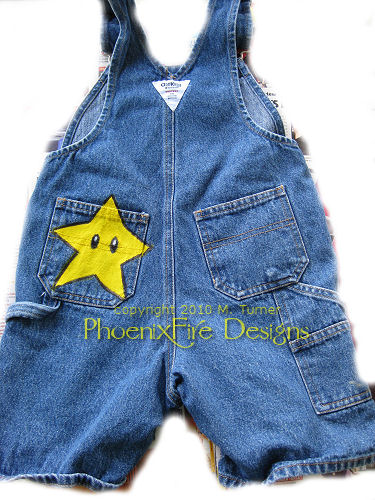 The Details
Bought a pair of jean overalls. I pre-washed them (Tide Free & Clear and no fabric softener) just to be sure I had a good starting surface.
I printed up some pictures of Mario and Mario Characters to use as a reference. I free-handed the images on the denim with a fabric pencil.
When I had it as I liked, I outlined each drawing in black Sharpee.
Then I got to painting. I used acrylic paint in many, thick coats to get a good, solid color. Took a lot of touch-up and a lot of patience. Probably spent about 4-5 hours on the project but I did it on the couch in the evening watching TV so it wasn't hard – just exacting.
Let it dry overnight and then I finished it with a few layers of spray-on ScotchGuard just over the images themselves. The acrylic paint is pretty permanent on most fabrics but this should help it stand up to being worn by a little girl a little more.
Close-Up pictures behind the cut!!
1-Up Mushroom was first.

Then I made Mario himself.

Next I made the Star (on the back pocket)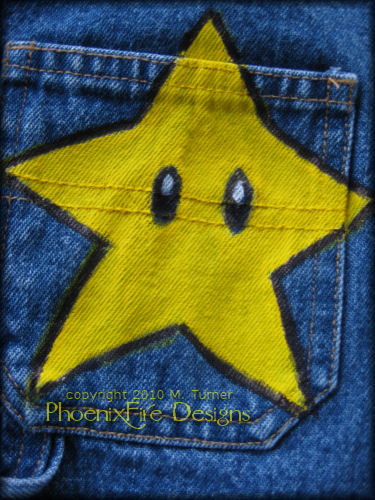 And…I felt it needed just something else… I hemmed and hawed quite a bit before finally realizing a Piranha Plant eating the "Osh Kosh B'Gosh" label would be perfect. (I think I might be most proud of him. It's a tie between him and Mario.)

I was so pleased with them when they were done. They honestly came out so much better then I had hoped. (In fact, when I made the claim, I felt it was so possible that I couldn't do it that I said I reserved the right to change my mind if I couldn't get it to come out right! 🙂 ) It wound up being so much fun to make.
As always, thoughts appreciated!