Your choice of glass pearls in birthstone colors lined in a row and strung on delicate sterling silver plated wire to form a simple, yet modern family necklace.
Perhaps you love my custom birthstone bird nest pendant but have too large of a family. Or, maybe you want to celebrate an extended friends and/or family. If you need more than 4 birthstones together in one piece, this is the perfect option for you!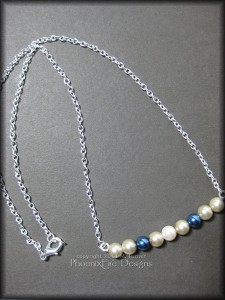 You can choose between 5 and 12 pearl colors in any combination you would like. The first example shows five pearls (September, July, May, April and February.) The second example is actually the inspiration for this style. A customer needed nine pearls and asked if I could put them all in a line for her. (The months are November, September and October in that piece.) It was such a great idea, I decided to offer it to everyone!
Available custom made just for you in the shop HERE!