I've made a few loaded charm bracelets as custom pieces lately. They're a lot of fun to make because I can sit on the couch, watch TV and make the dangles. Each bracelet usually takes a couple hours and it can be repetitive, but it's also a little comforting at the same time. After I make enough dangles, I add them to the chain, filling in and arranging them to give a nice, full look.
The first is all shades of green. It's a mix of various glass beads with some silver accents.
The second was inspired by colors of the ocean, and even has little beach charms mixed in such as shells, seahorses, etc.
And the third is a mix of purple, teals and pearl.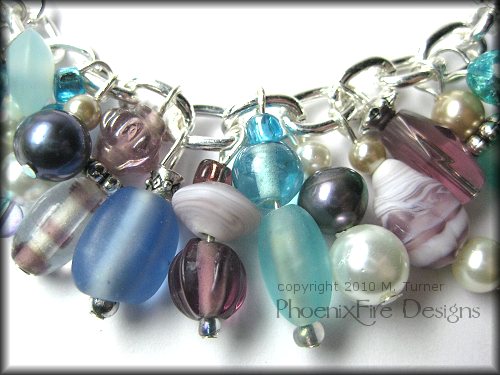 The beauty of this kind of bracelet is the possibilities are absolutely endless. You can do any color combination imaginable, and have it more or less full as desired. They look so lively when worn and really make any outfit more fun.
I normally don't have many of these ready-made for sale on the store or the etsy shop but I'm always able to make one on custom request. So if you're interested, please drop me a note and let me know! I'd love to make one for you as well.