Like many, I was devastated to hear of the passing of Supreme Court Justice (and all around bad-ass woman), Ruth Bader Ginsberg. So I decided to have some holographic stickers made up with the image of her famous "Dissent" collar and donate the profits to a charity important to her in her honor. I've selected ACLU due to her long affiliation with them and being co-founder of the Women's Rights Project at the ACLU.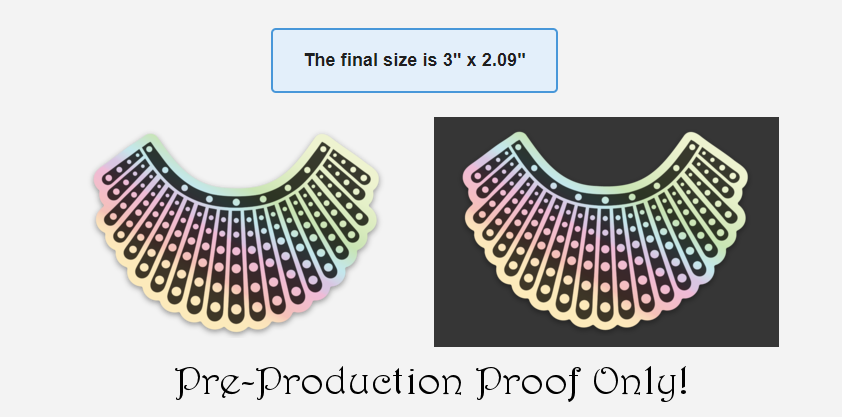 This is a proof image of the sticker. The final item will have a gorgeous, holographic effect. The sticker will measure approximately 3″ x 2″ and is suitable for just about any use. They are waterproof, sun fade resistant, and very durable. They are being professionally printed. I expect to receive them around the end of September.
Edit: Here is a GIF of the actual stickers on hand!

I am pricing the stickers at $5. And I am donating a minimum of $3/per sticker to the ACLU. I am NOT looking to make profit on them, just cover the costs. ALL extra will be donated. (Costs include the original price of the sticker, PayPal fees, and shipping costs.) I will be shipping them in a simple letter envelope to help minimize cost. (Using a first class, 55 cent stamp for US and a first class, $1.30 stamp for international.)
RBG Dissent Holo Sticker
Thank you!