I've been on a kick for making something different lately. With Valentine's Day coming up, I guess hearts and love have been on my mind too. So this translated into making several wire wrapped heart pendants with gemstones in various metal wire colors, stones and styles.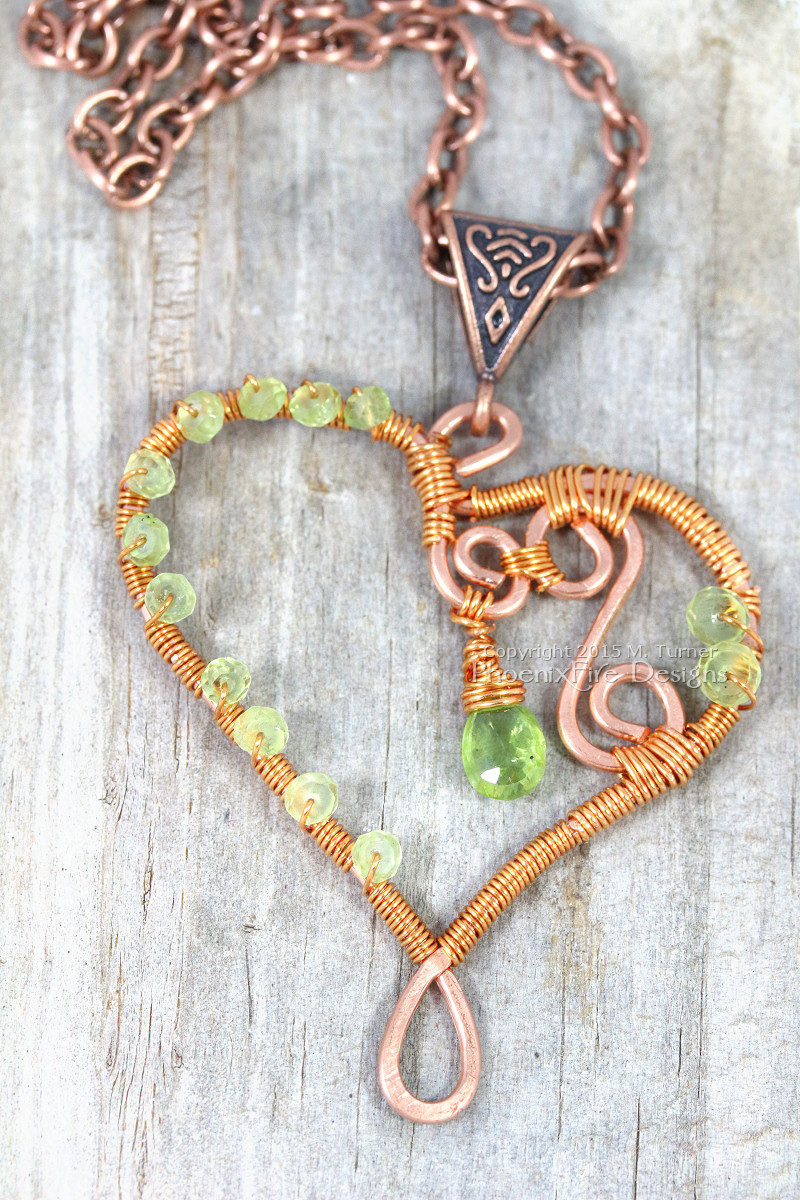 This handmade pendant was hand shaped in solid, tarnish-resistant copper wire and then hammered to bring out texture and also to harden the wire. I then wire wrapped micro faceted peridot rondelles along the outer frame and added swirls and spiral accents plus a matching spring green peridot teardrop accent. It also features a large, decorative Celtic bail and hangs on a 20″ antique copper chain.
::::::::::::::::::::::::::::::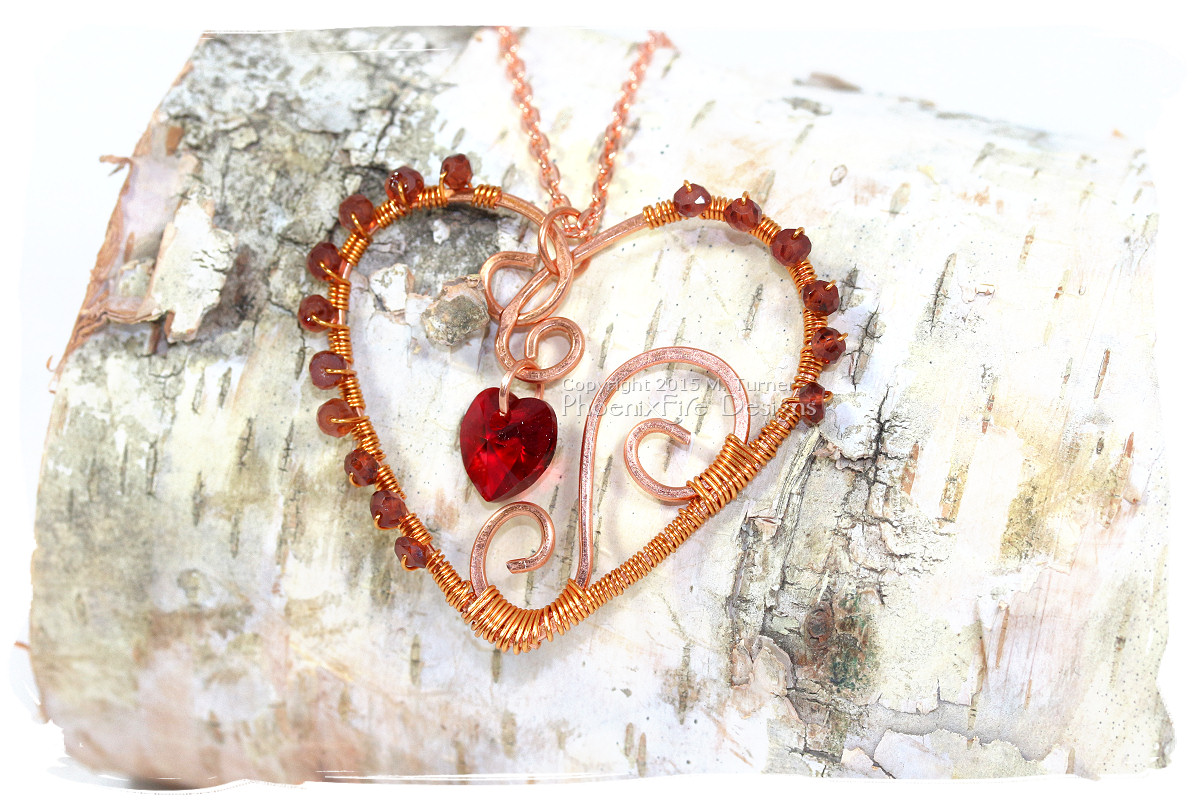 This handcrafted wire wrap necklace is also made from hand hammered, textured copper wire shaped into a heart and accented with rich, dark red garnet gemstones and a red siam Swarovski crystal 3D heart dangle. It features a large spiral and hangs on a matching rose gold, bright copper chain. Handmade by Phoenix Fire Designs on etsy.
::::::::::::::::::::::::::::::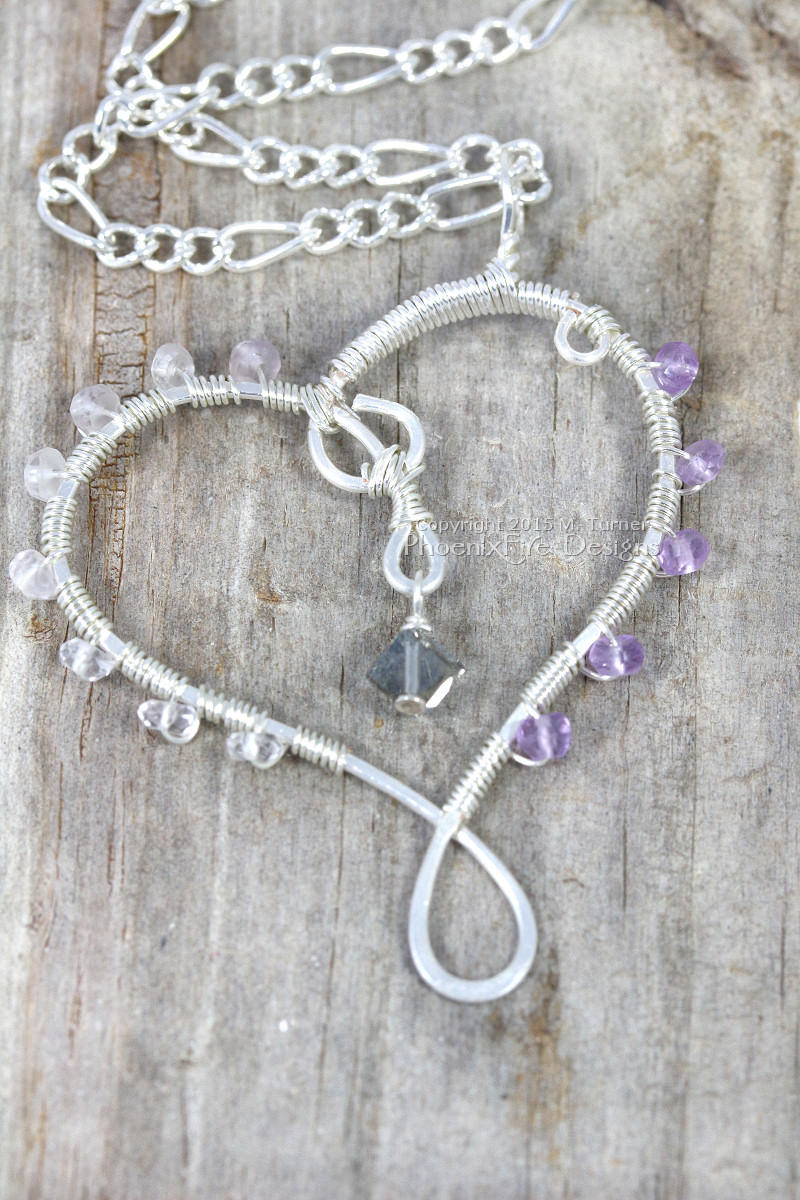 This heart pendant is made from tarnish-resistant silver plated wire which is hand formed into a heart and then accented with an ombre of nearly clear through pale violet purple amethyst rondelles and a color-changing Swarovski crystal twisted cube. It's been finished with a Figaro chain and handmade by PhoenixFire Designs.
::::::::::::::::::::::::::::::
So what do you think? Do you like the new experimental pieces I've been making lately? I have a bunch of in-progress pendants as well in other shapes like spirals and swirls and circles which I'm still refining and working on perfecting. I'm never going to stop making my trees of course, but I just thought it might be fun to step outside of my comfort zone and try some new things. Plus, it's something fresh and makes me stop and think about the creative process a little more. I can make trees by muscle memory these days after making thousands of them! But these shapes require me to focus more and stop and figure out how I need to complete each one.
These three are all One of a Kind pieces and are listed in PhoenixFire Designs shop on etsy – while they last! I will also be adding more styles and options as I go.
What would you like to see next?