It can be really hard to judge size of things online from just a picture. Even harder still to decide between two differently sized items. So I made this comparison chart to help easily show the sizes of the commonly available tree of life pendants in my shop.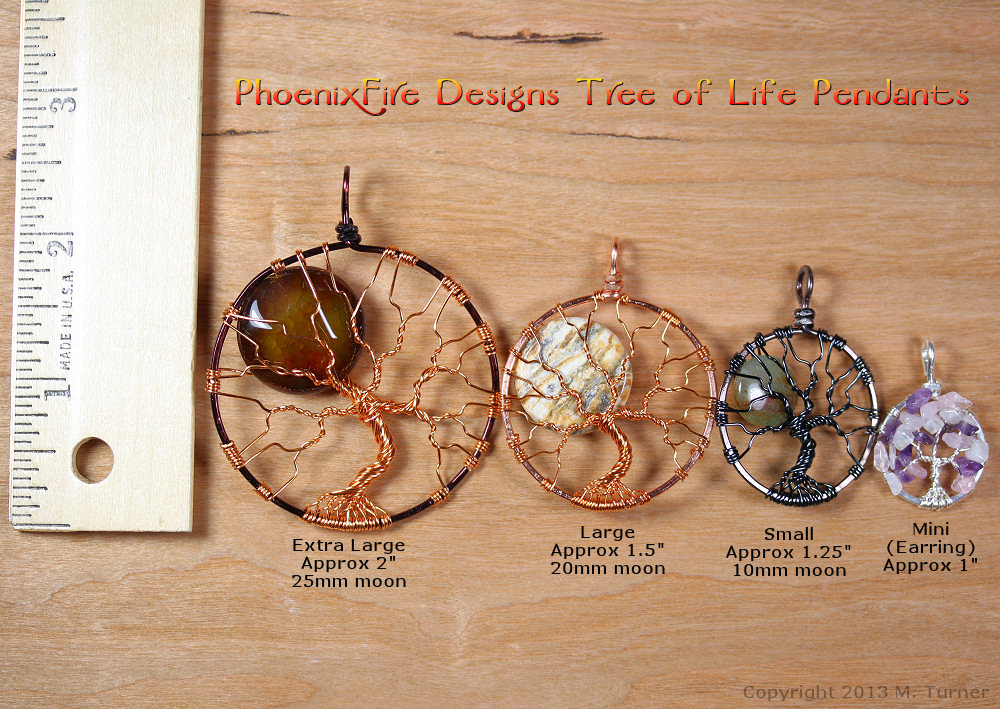 The approximately 2″ Extra large is currently a custom order size. Pictured is a version with a 25mm fire crack agate in mixed metals of brown wire and copper wire. I have more colors of the 25mm fire crackle agate on hand as well if you're interested in having one custom made.
Large is the "normal" size for my full moon trees. The pendant is approximately 1.5″ and I use 20mm moons in those pieces. Things like my rainbow moonstone, Halloween moon and also Four Seasons Tree of Life all are in the "large" size. Pictured is a gold feldspar moon set in non-tarnish copper wire.
Small at approximately 1.25″ is the "normal" size for the faceted rondelle trees such as the birthstone trees (garnet, emerald, ruby, etc.) as well as the smaller full moon versions. I use a proportionally smaller moon of 10mm to keep the balance of the scale. Pictured is a green agate moon set in gunmetal wire.
Mini is currently available only as earrings. Items like my Four Season Tree of Life Earrings use the mini size. It's approximately 1″ and makes for a tiny, adorable little tree. I can also make a single tree as a pendant in this size on custom order. (Perhaps a nice gift for a younger girl? A piece of "grown up" jewelry more appropriate to her size?) Pictured is a mix of rose quartz, amethyst and rainbow moonstone chips in silver.
I hope this helps better understand the various sizes and the scale of how they all relate to each other. My pieces tend to fall in the same sizes so this reference should be a helpful guide in comparing and deciding which size works best for you!
As always, every single piece of PhoenixFire Designs jewelry is handmade entirely from scratch so customization and personalization is always possible! If you want to mix it up or change it up, just let me know!