Stunning Swarovski crystal baroque pendant is the focal point of this dangle necklace. Featuring clusters of AB crystal on Figaro sterling silver chain.
Swarovski is world-renowned for it's stunning crystal. Made in Austria, it's the best crystal in the world. I use it exclusively in this stunning piece.
I started this pendant with a 22mmx15mm Baroque Pendant in AB finish. Then I made clusters of AB xillion 4mm bicones for a total of 4″ of dangle. The clusters graduate in size from 5 at the bottom, to four, three and then two. The dangle is then attached to a 16″ Figaro chain plated in sterling silver. It's finished with a toggle clasp accented with additional AB Swarovski crystals.
The AB Finish ("Aurora Borealis") is amazing and gives the crystal an inner fire like no other. As the light hits the crystal you get an explosion of color across the whole rainbow spectrum. Fiery orange, blues, greens, yellows – as the light plays across the crystal, it changes with each motion and just amazing when worn.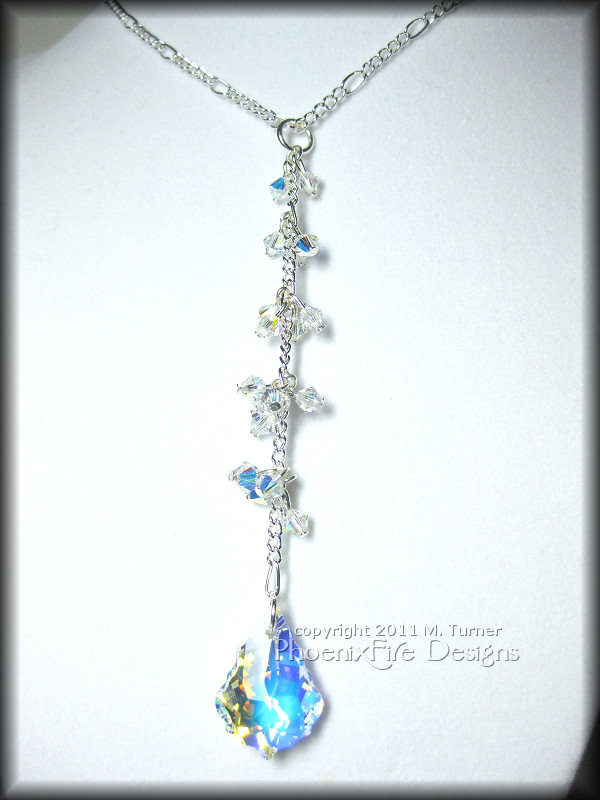 I made this necklace with a bride's big moment in mind. Think how amazing the AB Swarovski crystal will look around her neck as she walks down the isle. Every camera flash will make the crystal come to life.
This pendant would also be perfect for a special event or formal occasion where you want to really shine. Though simple in style, the elegance and amazing quality of the crystal make it something special.
Available for purchase HERE.