Six genuine gemstones (ruby, yellow sapphire, emerald, blue topaz, amethyst and white topaz) form a rainbow of color on sterling silver ear threads.
I started with a sterling silver, ball tipped headpin and then strung six genuine gemstones on. All gemstones are high quality, micro faceted rondelles. The ear threads are .925 sterling silver as well and thus hypoallergenic for those sensitive to some metals.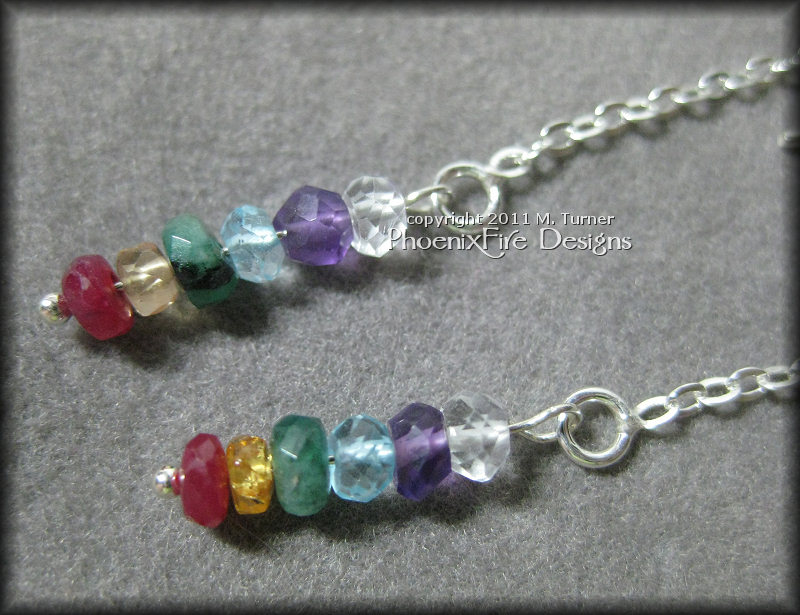 The gemstones used in the piece starting from the bottom are:
* Ruby – one of four precious gemstones and the birthstone of July
* Yellow Sapphire – Another of the four precious gemstones, sapphire comes in many colors including this lovely yellow. Traditionally blue sapphire is the birthstone of September.
* Emerald – the third precious gemstone in this piece, emerald is the birthstone of May and an amazing green stone without peer.
* Blue Topaz – A semi-precious stone, blue topaz has a crystal clear blue sky color. It's an alternative birthstone for December.
* Amethyst – Long associated with royalty, amethyst is a gorgeous and rich purple tone. This semi-precious stone is the birthstone of February.
* White Topaz – White topaz is a flawlessly clear crystal stone. It's used as an alternative to diamond for April's birthstone. Also semi-precious.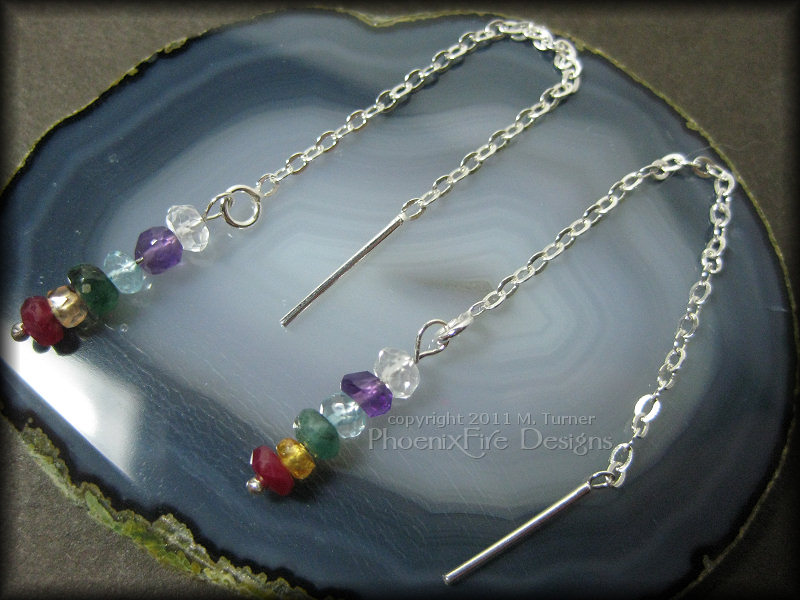 Threader style earrings allow you to adjust how long or short you wish to wear them. The gemstones measure about .25″ in length and the total length of the threader plus gems is right around 3.25″
They're dainty and feminine. They would be a lovely gift for someone who likes rainbow colors, or who is interested in chakra healing and colors.
They would also be a very special gift for a young woman who may not want or need a large pair of earrings but for whom a pair of sterling silver gemstone earrings would be a special gift. It could be a pair of "grown up" jewelry all her own.
I only have the one pair of these at this time as I put them together with the extra gems leftover after other projects. To individually purchase this many stones to make a pair would be quite expensive so this is a great way to get some high quality gems in a lovely little, affordable package.
Available in the shop HERE.