Genuine ivory freshwater pearls delicately fill out this beautiful, bridal and wedding inspired Tree of Life Pendant set in Sterling Silver wire.
When I saw these beautiful pearls I knew I had to snag them. They are some of the absolute most beautiful pearls I've ever been lucky enough to work with. Very high quality and luxe.Though an undyed soft white/ivory color, the pearlescent nature of them gives them hints of blue and pink depending on how the light hits them. Just stunning. I used about 14″ of pearls in this piece. It's just full of pearls!
I made this piece with a beautiful, formal event such as a Wedding in mind. It made me think of a bride glowing on her wedding day, walking down the isle with a unique and gorgeous creation at her throat. It's just such a striking and stunning piece and would look beautiful in both ceremony itself and in photos for years to come.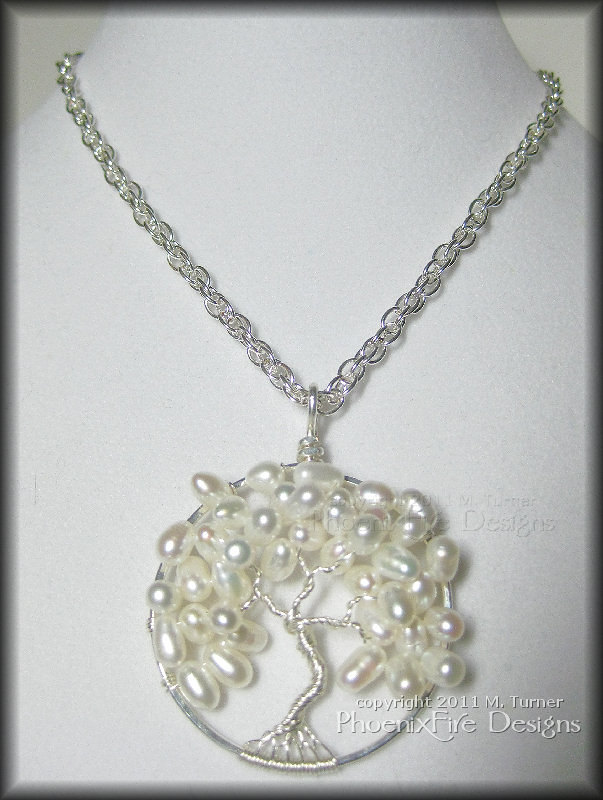 You don't have to be a bride though to enjoy this lovely piece. Pearl is also the birthstone of June so would make a great gift for a June baby. And, it also kinda reminds me of a Winter scene as well. Maybe you just like the striking look – no other reason necessary!
One of a kind pendant available HERE in the shop.