Stunning peridot micro-faceted rondelles are set in sterling silver wire to form a beautiful Tree of Life pendant. Peridot is the birthstone of August.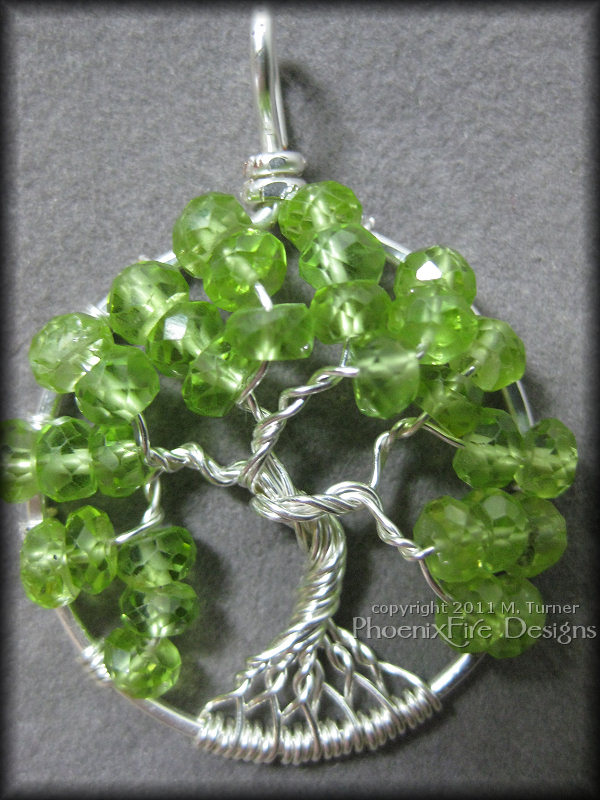 The micro-faceted Peridot rondelles of this pendant are just gorgeous! Very high quality gemstones with beautiful color and clarity. They make for a very special, very elegant pendant. The pendant features 31 rondelles, each around 4-4.5mm in size. It's really something special.
Peridot is a natural, semi-precious gemstone in the most amazing green color. The birthstone of August, it has been considered sacred and a symbol of purity for thousands of years. It was considered a stone of Springtime and a gift of Mother Nature by the Ancients. It is a stone of lightness and beauty and is said to enhance wellness in the spiritually aware. Peridot, while possessing a uniquely vivid tone of green has some natural variation in it.
Measuring approximately 1.25″ wide by 1.5″ high (not including bail), it's a lovely size both for everyday and special occasion wear. A lovely gift for someone who is born in August or who just loves the amazing color of Peridot. It is a gorgeous stone and makes for a striking piece when worn!
Available for purchase HERE.