Precious gemstone Ruby (birthstone of July) is paired with mystical Rainbow Moonstone in these chandelier style sterling silver earrings in a heart shape.
For these sweet earrings, I started with a .925 sterling silver heart finding. From that, I have five dangles of gemstones. Each dangle is on a sterling silver ball-tipped headpin and features genuine, natural precious ruby gemstone and natural semi-precious moonstone rondelles. They are finished with sterling silver hooks and measure a little over 1.25″ from the top to the bottom of the longest drop.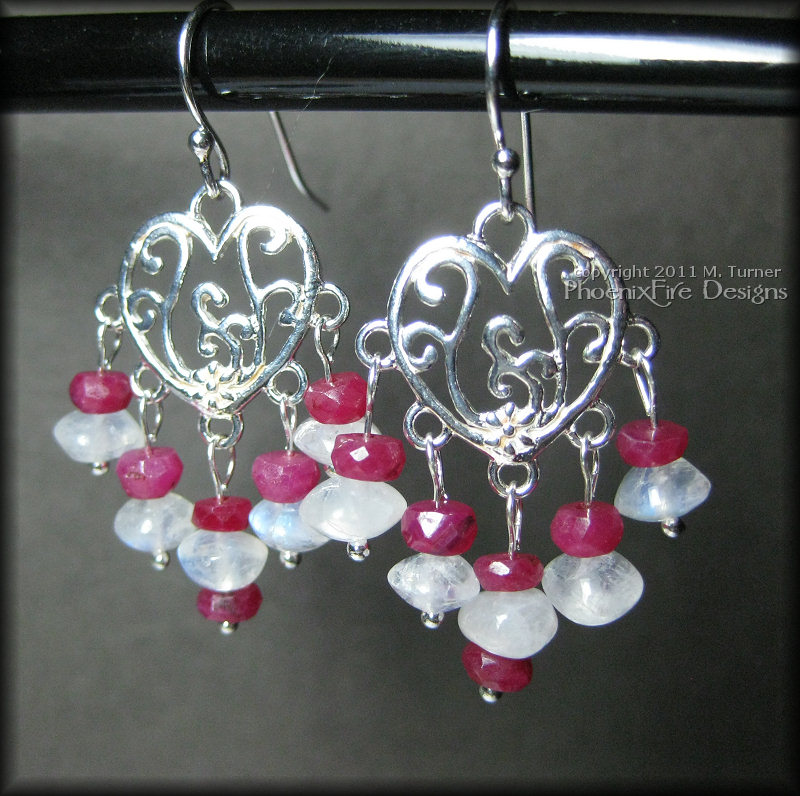 These are lovely earrings. The sweetheart shape makes them equally wearable everyday or for a special occasion. A gift for a July baby, someone you love or just as a special treat for yourself!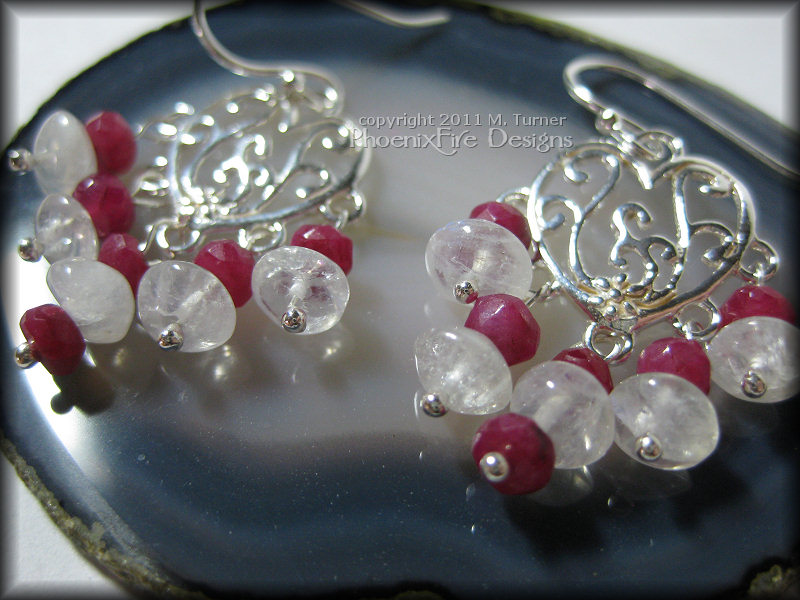 About the Gemstones Used
* Ruby is one of the rare, precious gemstones (along with Emerald, Diamond and Sapphire.) Ruby is known as the most powerful gem in the universe. To own a ruby is to know contentment and peace. Given as a gift, ruby is the stone of friendship and love. It's also associated with vitality and royalty. It is the birthstone of July. The rubies used in this piece are 100% natural gemstone, grade A+ Micro faceted rondelles.
* Rainbow moonstone is an amazing stone that's almost impossible to photograph. The stone is "alive" with natural iridescent fire and a color shift towards blue in various types of light. Moonstone is of course associated with the Moon and with the Goddess Diana. It's a powerful stone said to protect those of a sensitive nature and bring good emotions to the wearer. Because of it's tie to emotions and the moon, it's said to be a woman's gemstone. It is also an alternative birthstone for June. (Traditionally pearl.)
Available for purchase HERE.