Fiery colors of reds, oranges and yellows, these cluster dangle earrings are all genuine gemstone set in sterling silver. Inspired by my shop's names these remind me of Phoenix Fire.
I started with a faceted lemon quartz teardrop briolette which I wire wrapped with non-tarnish sterling silver plated wire. Above it, a cluster of micro-faceted rondelles in semi-precious garnet and shaded citrine gemstones nestle together. Each rondelle is on a sterling silver, ball-tipped headpin. The earrings are finished with .925 sterling silver French ear hooks.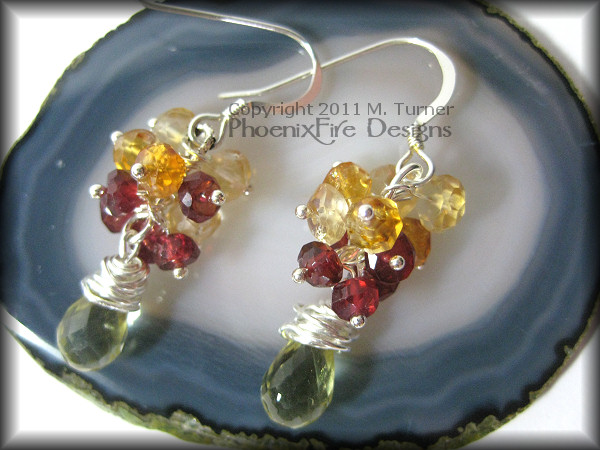 The earrings measure a little more than 1.25″ in total length from hook to tip. They sparkle and catch the light like crazy! This warm, rich color combination is perfect for summer and is very vibrant.
I loved these stones and this style so much I made a pair for myself personally! Every time I wear them, I get so many compliments. They're a perfect size where they're noticeable but not overbearing. You can wear them both with jeans or for a special occasion.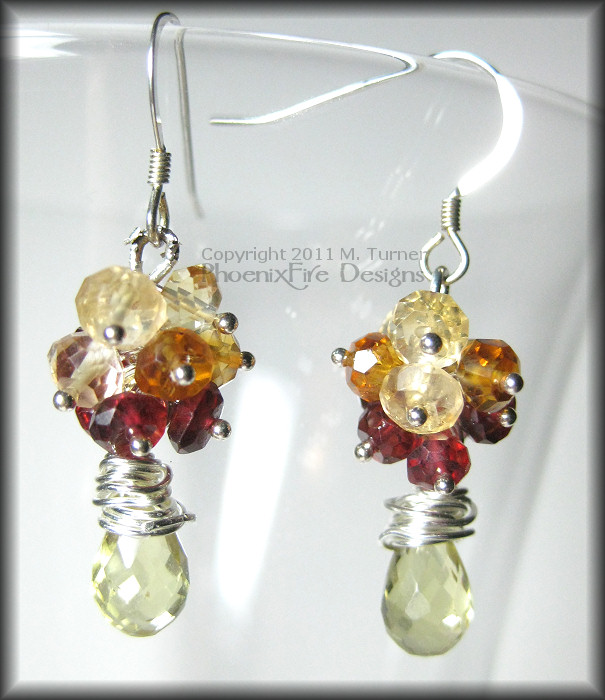 You will receive the exact pair shown and it's the only one I can make at this time as I used my entire supply of gems on this pair.
Available for purchase HERE.