Though I'm still out on unpaid medical leave and will be for some time now (see all the details here), it seems like there are just never enough hours in the day! Not enough time to make, photograph, edit and list items let alone promote them. But here's one I managed to get listed tonight. I have a few more things which are going to be listed soon but for now, this is the first of them.
Stunning gemstone earrings set all in sterling silver featuring 10mm AA-Grade Crystal Quartz Onion Briolette surrounded by amazing Chrome Diopside Rondelles with White Topaz Accents.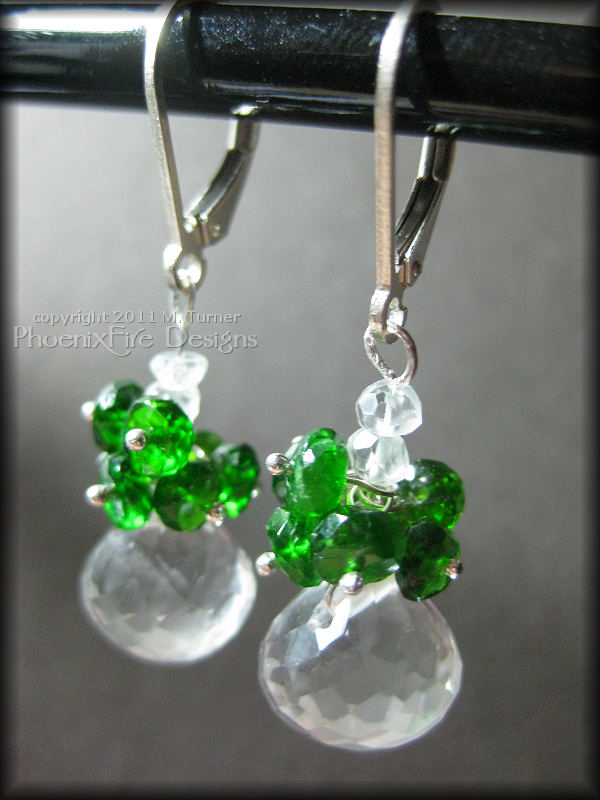 I started these stunning earrings with flawless, AA-grade Crystal Quartz in a 10mm onion shaped briolette. It's faceted and clear as ice. Then I strung one of my all-time favorite gemstones, Chrome Diopside, on ball-tipped sterling silver headpins and made a cluster on top of the quartz. Above that are two white topaz faceted rondelles to finish out the earrings. They are finished with .925 sterling silver leverbacks.
Chrome Diopside isn't as well known as other gemstones and though it has an ugly name, it's one of the most stunning gems you'll ever find. The color is so rich, so deep and so intense it just doesn't seem real. But this is an all natural, untreated gemstone and the amazing vibrancy of the green paired with the cool icy perfection of the quartz makes for a really stunning look.
They measure just about 1.45″ in total length from top of leverback to bottom of the quartz. All findings in these are .925 sterling silver. The headpins also have little round balls on the tips giving them more interest and style.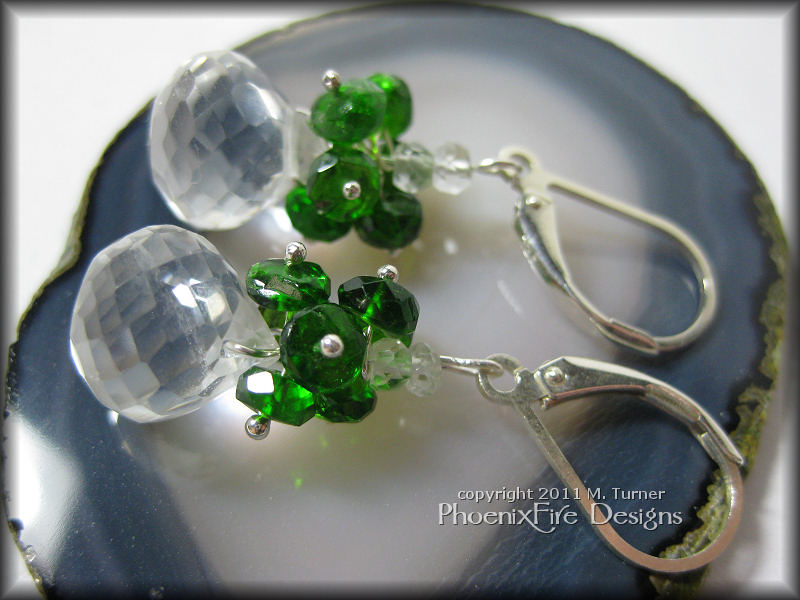 Chrome Diopside is also called "Siberian Emerald" because of it's rich, amazing green. Many people say Chrome Diopside is what Emerald wishes it could be when it grows up! The name Diopside is derived from the Greek word 'di' meaning two, and 'opsis', meaning vision. Diopside is believed to be a creative stone, increasing creative visualization and helping to manifest desired goals. Found only in remote Siberia, it can only be mined three months of the year making it a rare and valuable gemstone.
One of a kind and available for purchase HERE.