And now for something completely different! Besides my jewelry, I'm also very crafty in general. I do a lot of craft swaps on Craftster.org. Mainly, I tend to make jewelry there too since it's my specialty, but sometimes, I also go for projects that are different. It's nice to do something outside your normal wheelhouse and comfort zone sometimes.
One recent example is the Harry Potter Trinket box I made: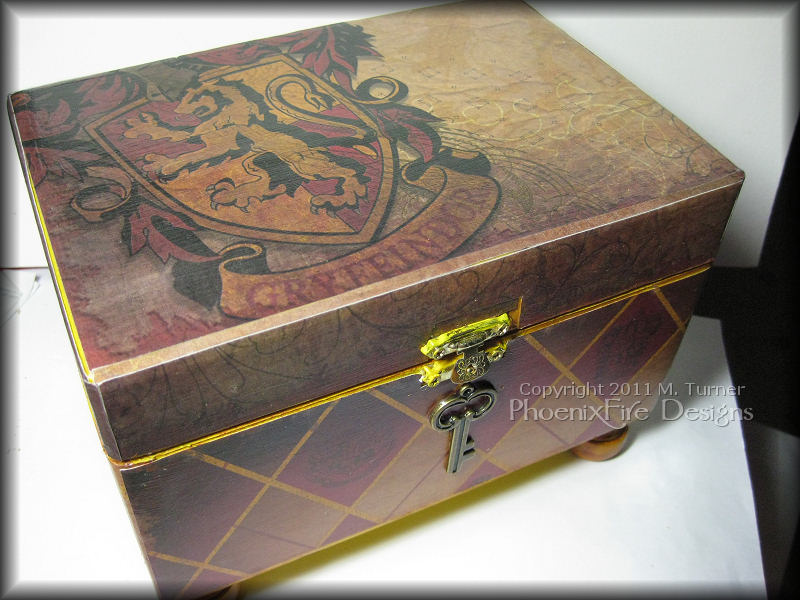 The lady I was crafting it for had an example one she liked on her wishlist. So I used that as in the inspiration and wanted to come as close to the inspiration piece as possible. The first problem was that I needed to find the Harry Potter scrapbook paper for it. Struck out locally but found it on ebay. Next, I needed a box. I picked up an unfinished one from Michael's but when the paper arrived, I found out it was too small. The only one big enough had a stupid handle on it that I didn't need. Similar to this:
So I bought it anyway along with an sharp craft knife and got to work. I carefully sliced through the glue holding the handle on and eventually was able to break it off. That left some rough spots so I had to then sand it down. I also filled some of the deeper gouges left to keep it as flat and even as possible. Next came a few coats of Gryffindor yellow paint on the entire box – all the outside and inside. Even though it was going to be covered in paper, I wanted a nice, base coat for any places you could see in the seems.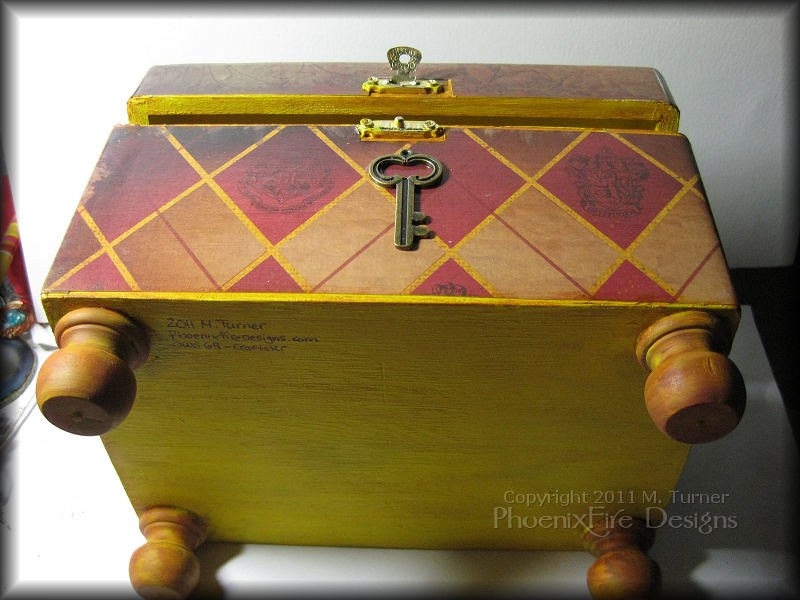 After that, I covered it in the paper itself. That was a project! I used Mod Podge to both glue it down and to seal it with several coats. After it dried, I glued on a brass key and I also glued on the little "feet" I bought separately for the box and painted those. Next came an overall aging and paint touch-up job where I added some brown and reds in dry brush and wipe-off techniques to the feet, seems and edges of the box. Just to tone down the yellow and make it look a little more used and worn-in.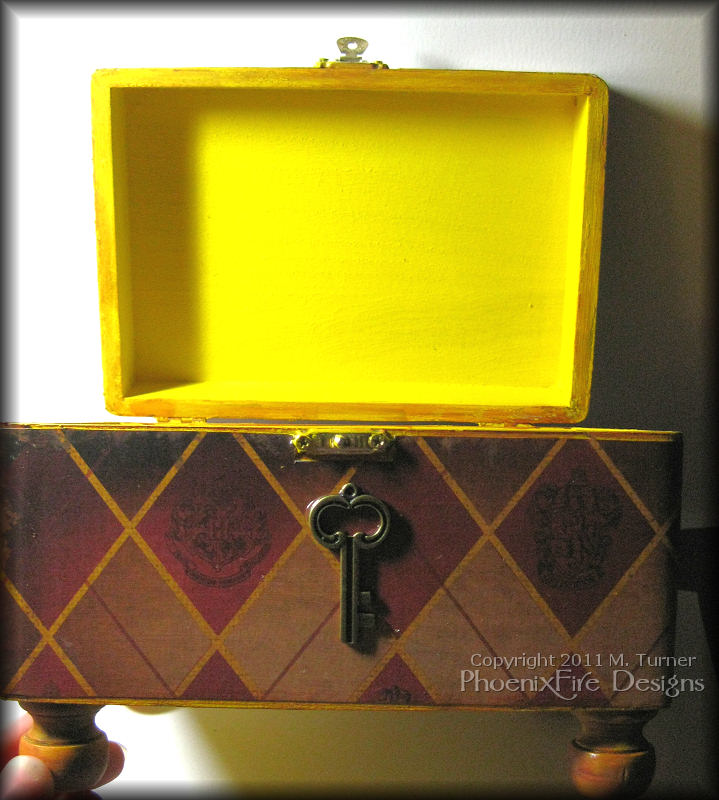 The final step was a couple coats of a spray-on gloss coat just to help protect it and give it a little more gloss shine.
All told, it was a much bigger project then I had planned going in. Spent about three evenings on the piece all together. But I think it was a lot of fun and it was neat having something different to do for a change. I hope she really gets a kick out of it and now maybe next time I make one I'll have a little more knowledge going in and I'll be able to better prepare for the inevitable problems that come up when you craft something! 🙂