My Custom Birdnest Pendants are a really simple and lovely way to celebrate family and friends. By selecting 2-4 birthstones, I can make a piece that's special and meaningful just to you.
Here's a recent example I made for a customer: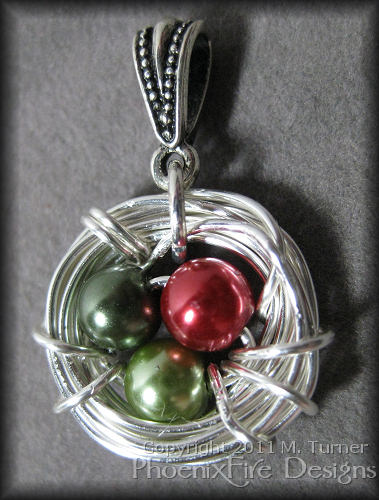 This one features May (dark green for emerald), July (bright red for ruby) and August (the spring green for peridot). This was a Mother's day gift and her Mom just loved it. Each piece is unique and completely personalized. It's made with non-tarnish silver plated wire and glass pearls. (Glass pearls are a nice option too for those who are vegetarian and/or vegan since they're man-made and thus, cruelty-free.) They're great gifts for Moms, Grandmothers, family (siblings, cousins, etc.), or even just friends. Maybe you just want one made in color(s) you like!
Want a cute bird nest pendant made unique just for you? Available for order HERE in the store!