Four green aventurine gemstone "peas" are nestled in a sterling silver plated "pod" making a cute little pendant!
The pendant starts with non-tarnish German sterling silver plated wire which is shaped and hand hammered to make a peapod shape. Then I wire wrap four beautiful green aventurine round gemstones to make the pea themselves. (Using non-tarnish sterling silver plated wire as well.)
Green Aventurine is the stone of luck and chance. It is said to increase perception and creative insight and is a heart chakra stone. They have a lovely little bit of variety and color variation in them making them look very organic.
This would be such a cute piece for a Mom or Grandma. (Especially with Mother's Day coming up!) It's also a fun pendant for a gardener or farmer. I could see someone who has a backyard garden just loving something like this!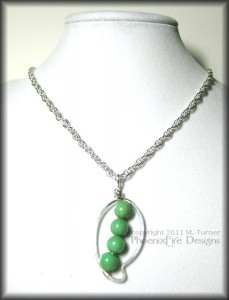 Pendant is approximately 2″ in height from bail to tip. It's approximately 1″ at it's widest point. Note: I can also make a version with more or less peas – email me for details and custom listing!
Available for sale HERE