Stunning ruby micro-faceted rondelles are set in sterling silver wire to form a beautiful Tree of Life pendant. Ruby is a precious gemstone and the birthstone of July.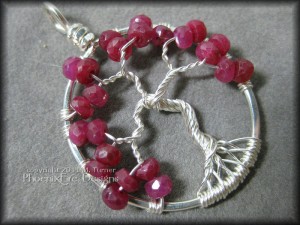 The Tree of Life is a concept that's been featured in myth, story and legend literally all around the world. Since ancient times, people have used variations on the theme. Connecting all things – the realms of the spirit, the physical, the Divine and the mundane – the roots of the Tree and the branches touch all things and bring them together in harmony.
This pendant is handmade using painstaking wire-wrapping techniques. Hand hammered sterling silver plated wire frames and encircles the pendant, and then sterling silver plated, non-tarnish wire is used as the roots, trunk and branches of the tree.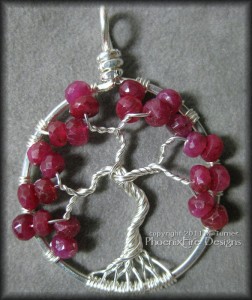 Ruby is one of the rare, precious gemstones (along with Emerald, Diamond and Sapphire.) Ruby is known as the most powerful gem in the universe. To own a ruby is to know contentment and peace. Given as a gift, ruby is the stone of friendship and love. It's also associated with vitality and royalty. It is the birthstone of July.
The rubies used in this piece are 100% natural gemstone, grade A+ Micro faceted rondelles. I use approximately 10 carets (!!) of the luxe, precious gem in this pendant. It's just a breathtaking amount of ruby.
Measuring approximately 1.25″ wide by 1.5″ high (not including bail), it's a lovely size both for everyday and special occasion wear. You will receive the exact pendant pictured. I bought enough ruby for one pendant so snag it if you love it!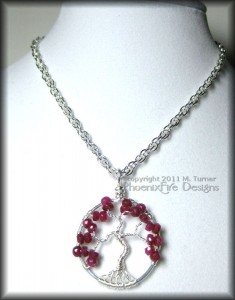 Available for purchase HERE