Beautiful, genuine Turquoise gemstone – the birthstone of December – set in sterling silver wire creates this stunning, custom Tree of Life pendant.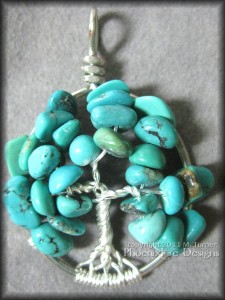 This pendant is handmade using painstaking wire-wrapping techniques. Hand hammered non-tarnish sterling silver plated wire frames and encircles the pendant, and then sterling silver plated, non-tarnish wire is used as the roots, trunk and branches of the tree.
Turquoise is a stone that has been prized for many years. The ancient Egyptians used turquoise in jewelry and the name means "Turkish stone" as it came to Europe by way of Turkey. Turquoise was mined more than 6,000 years ago in Sinai. Turquoise is one of the oldest protection amulets, and was also known as a symbol of wealth in many ancient cultures. Turquoise is the symbol of friendship. It also brings peace to the home.
Native Americans of the Southwest also are well known for their silver and turquoise jewelry. Tribes such as Navajoes, Hopi and Zuni are most famous for their turquoise use. They started making silver and turquoise pieces started around the 1850's and continue on through present day.
There are many imitation forms or dyed stones out there. They range from poor copies to good copies but all are much cheaper in price and quality. This is a 100% natural turquoise gemstone so buy with confidence.
Turquoise has natural variation and variety of blues and inclusions within it. It's part of the beauty of the stone. Each pendant is fully hand crafted and thus one-of-a-kind. No two are ever alike. You will receive the exact pendant pictured.
Pendant available for purchase HERE.