I've made Apple Trees in the past in Peridot gemstone with brown wire but I decided to give a variation on that.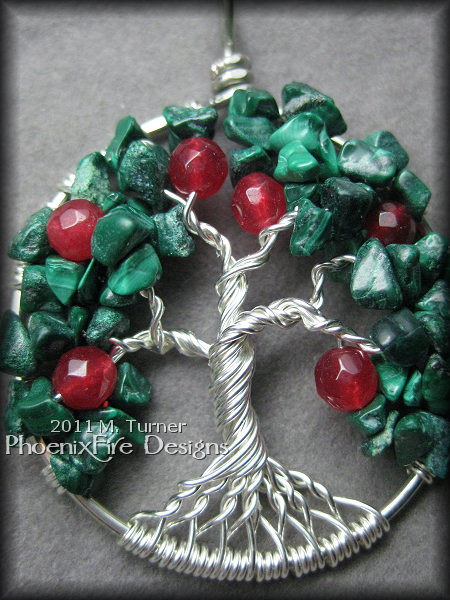 The leaves are made from genuine Malachite. Malachite is always green, usually in banded tones varying from very dark green to a mellow green. Ancient Egyptians, Greeks and Romans used malachite for jewelry and ground it to use as eye shadow. It is used in amulets to protect against the evil eye. It is said to protect the wearer from accidents and protects travelers. Malachite has been used to aid success in business and protect against undesirable business associations. It is a stone of balance in relationships.
The apples are made from 4mm faceted ruby round gemstone beads. Ruby is also the birthstone of July and is considered to be the most powerful gem in the universe. To own a ruby is said to have contentment and peace. Given as a gift, the ruby is a symbol of friendship and love. The ruby is also the symbol of vitality and royalty.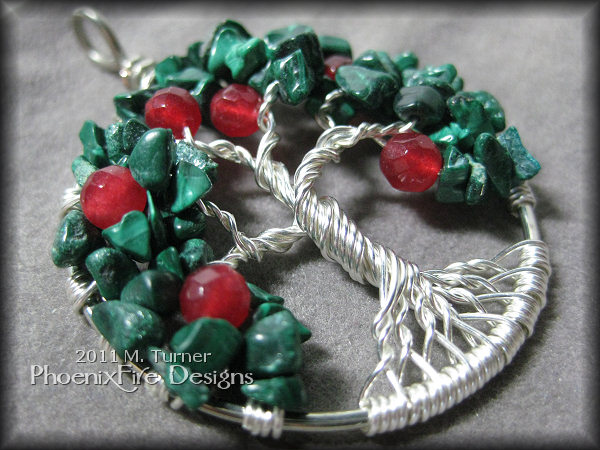 The pendant is approximately 1.75″ height/width excluding bail. The large bail will accommodate any chain or cord of your choice. It's the perfect size; big enough to be noticed, but not so large as to be unwearable.
I've had many requests for more Fruit Trees so I'm trying some new versions. This is the first time I've made it with Malachite and in silver but I like the richer color as an alternative to previous peridot pieces I've offered. Would also be a great gift for a teacher!
Pendant available for purchase HERE.