The flowing "Stepping Stone" pattern chain mail pendant in silver and rainbow colored rings hangs from a sterling silver small link necklace.
I created this handmade pendant using a mix of jump rings in both silver and rainbow colors. The rainbow cascades down and around the two center rings much like the flow of a river. Eleven different colored rings bring a full, vibrant color wheel to the piece. Starting at the top with red, orange, copper, yellow, green, teal, blue, purple (violet), raspberry, fuchsia and pale cotton candy pink.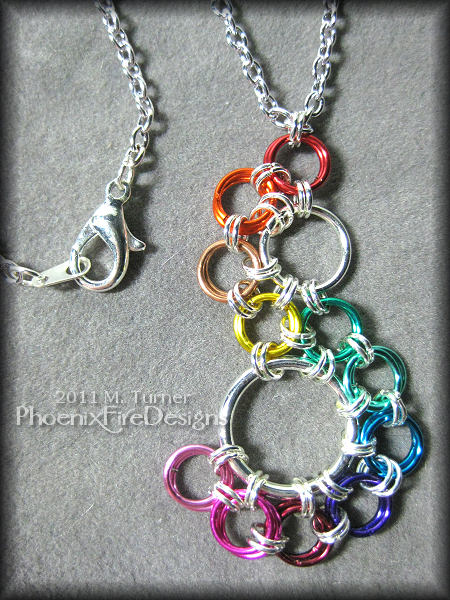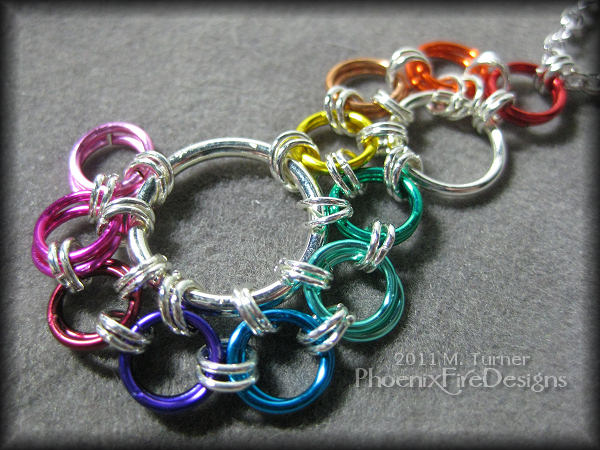 It's strung on a 18″ sterling silver plated small link chain which is finished with a lobster claw clasp. Ready for immediate wear!
This is a labor-intensive chain mail pattern but having made it in all silver first (also available in the shop!) it just called out for a rainbow version as well. The piece is lovely as-is and would also be a wonderful pride and equality gift.
Available for purchase HERE!