It's always hard to find the perfect Christmas gift. Every year, each holiday season, people struggle to find gifts for all the people on their gift lists. (Also check out our Gift Guide for some of the hard to shop for people such as teachers, coworkers, and more here for more suggestions and ideas!)
The hardest though can definitely be the people most important to us; our loved ones such as wives, girlfriends, mothers, sisters and family.
You always want to go the extra distance and get something extra special for the people you love the most and finding something they truly love and can enjoy can be difficult. Well, don't worry! Because PhoenixFire Designs is here to help!
For more than ten years, we've offered amazing quality, luxury and beauty with our line of 100% handmade, artisan jewelry. Each piece is made by hand, from scratch by me personally. This ensures not only that each piece will be unique, but that there's real love and a decade of skill in each pendant. I've worked hard to hone and refine my techniques to provide you with lasting jewelry of superior beauty.

What do I get my wife for Christmas? / What do I buy my girlfriend for Christmas?
I have a whole line of high-end, luxury, designer gifts in my shop that are perfect for the extra special people in your life like your wife, girlfriend, significant other, mother, partner, daughter, sister or someone who loves unique artisan jewelry. Made from the most premium precious metals and precious and semi-precious gemstones, these are the creme de la creme of beautiful gifts.
Tanzanite is uniquely gorgeous gemstone, with a striking blue-violet color. It's a popular gemstone for it's rare beauty and it's the kind of gemstone you can give as a gift for someone who understands quality and is looking for something special and unique.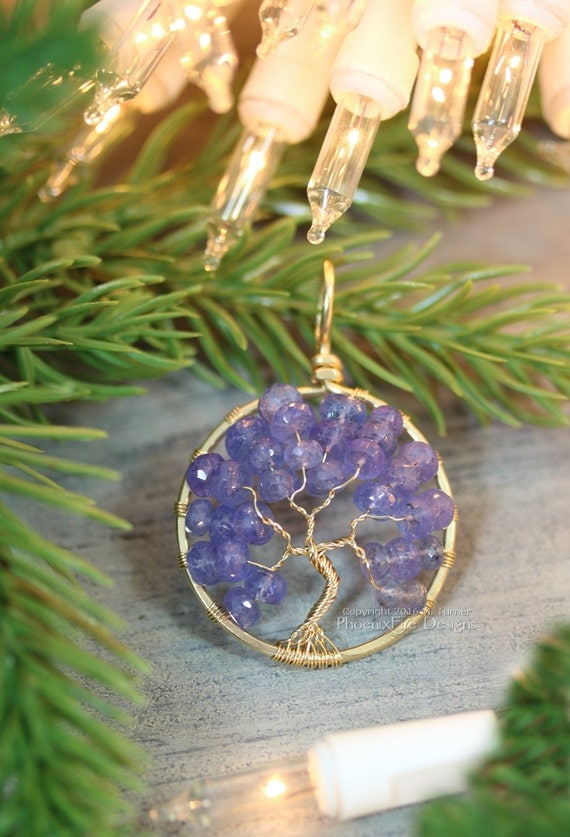 14k gf Yellow Gold Tanzanite Tree of Life Pendant Necklace
Chrome Diopside is an even more exclusively rare gemstone. It's not something a lot of people know about and few own. Because it's found only in remote Siberia, Russia, it can only be mined a handful of months each year when the ground unfreezes long enough to access it. It's the most stunning emerald green color. All natural and not color enhanced in anyway, this amazing green gemstone is unlike anything else in the world.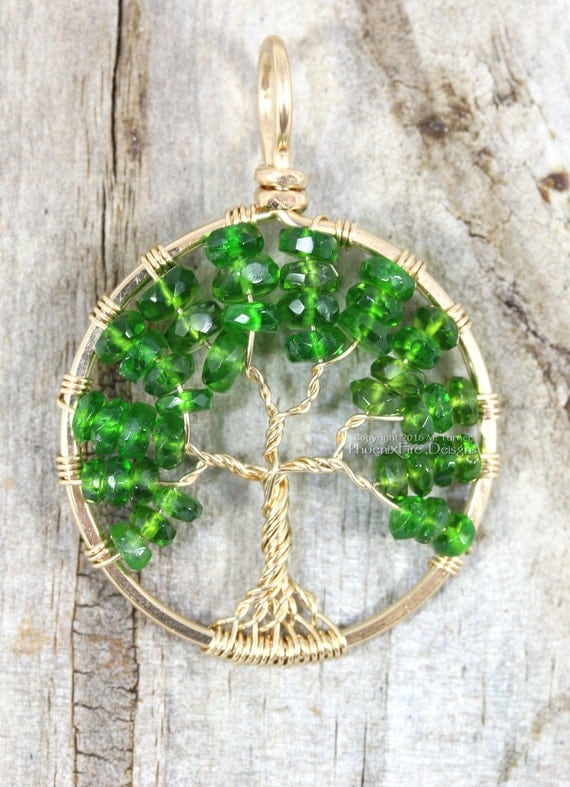 14k gf Yellow Gold Chrome Diopside Tree of Life Pendant Necklace
These striking Full Moon tree of life pendants feature massive 16mm natural, blue flash rainbow moonstone coin beads I have custom cut just for my PhoenixFire Designs shop. Each is handmade to order in either a striking black wire, or an eco-friendly, recycled Argentium sterling silver that is nickel-free and slow to tarnish with all the beauty of traditional sterling.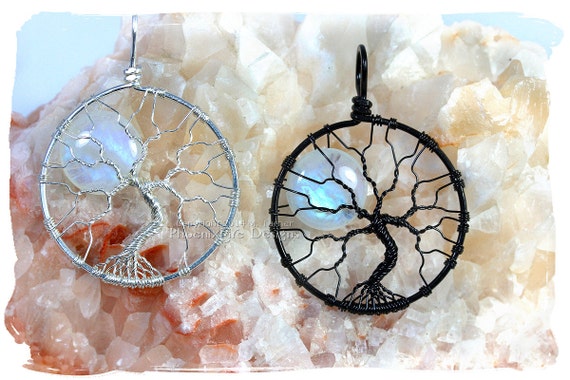 Eco Friendly, recycled Argentium Sterling Silver or Black Wire Wrapped Rainbow Moonstone Full Moon Tree of Life Pendant Necklace

What to buy a trendsetter gift for Christmas? / What's a unique, luxury gift for Christmas? / Designer gifts for Christmas?
Rose gold is an amazingly hot trend right now. All the fashionistas are wearing rose gold. Rose gold is what you get for someone who loves fashion and style. And my breathtaking natural rainbow moonstone tree of life pendant in 14k gf rose gold wire is the perfect culmination of both classic style and modern trends.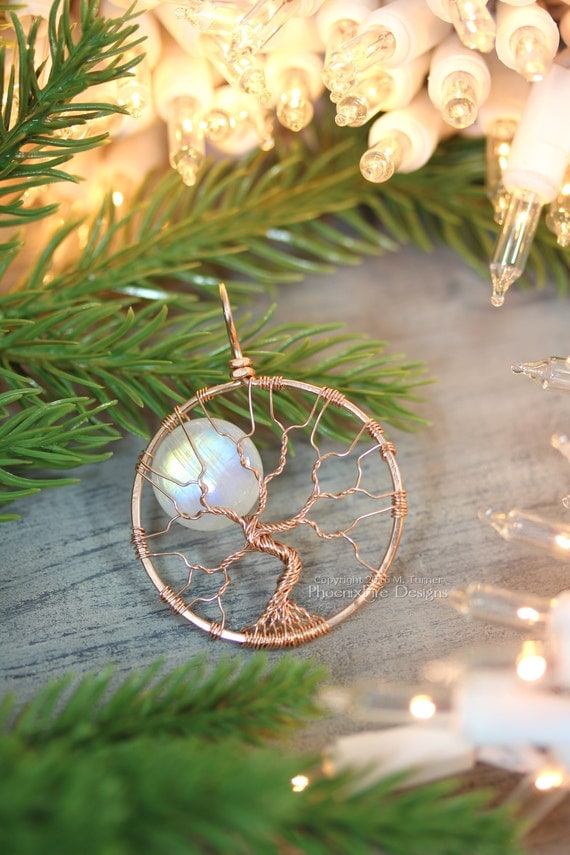 14k gf Rose Gold Rainbow Moonstone Tree of Life Pendant Necklace
Ombre or a color gradation from light to dark (or dark to light) has been a popular on-trend look in fashion for several years now. You can also get this effect with gemstones such as my 14k gf yellow gold Ruby tree of life pendant. With shaded ruby ranging from a pink sapphire through to the deepest crimson red, this tree spans the stunning range of precious ruby gems.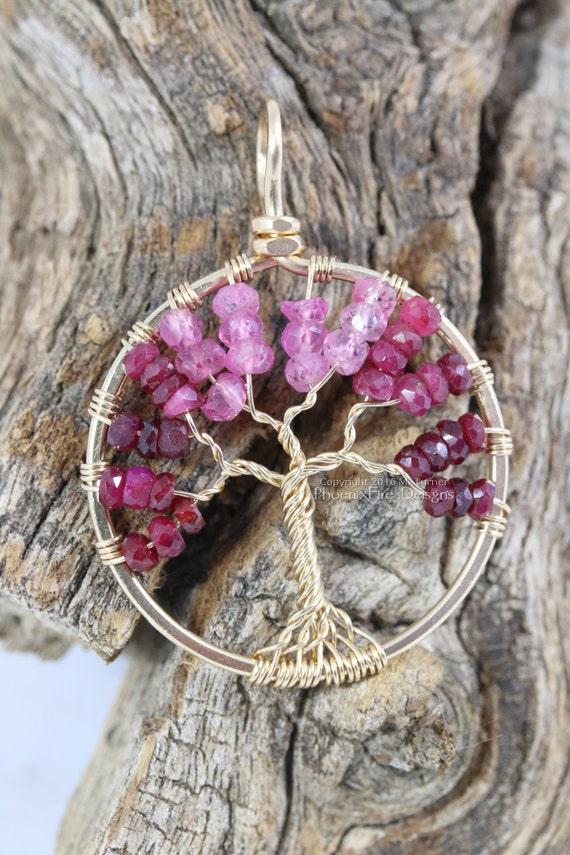 14k gf Yellow Gold Ombre Shaded Ruby Tree of Life Pendant Necklace

What to buy for someone who likes dainty or simple jewelry? / Dainty Jewelry gift ideas? / Simple, elegant jewelry gift ideas?
Some people prefer smaller, dainty jewelry. Understated jewelry, simple elegant necklaces, everyday jewelry, or classic, timeless style jewelry. My miniature freshwater pearl tree of life pendant is the perfect example of that. Timeless classic pearls in a small, dainty, elegant 14k gf yellow gold setting.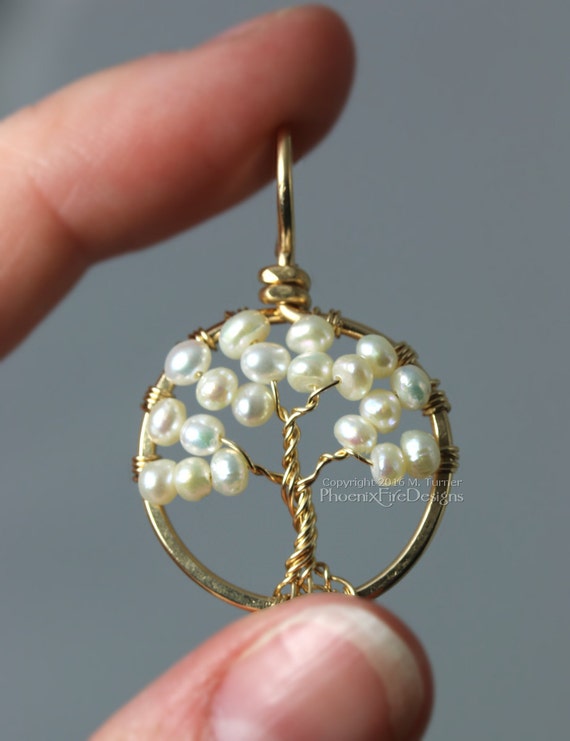 Miniature 14k gf Yellow Gold Freshwater Pearl Tree of Life Pendant Necklace
Or maybe you want a gift idea under $30 but still want something of quality. Perhaps you just want to find a pair of really lovely earrings. These blue sapphire earrings are in .925 sterling silver with Shepherd's Hook wires accented with a silver ball and are just simple enough to convey elegance and beauty but classic and timeless enough to wear everyday, from day to night.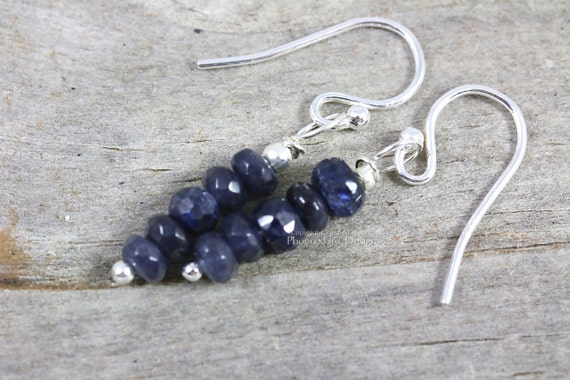 Sterling Silver Blue Sapphire Simple Stacked Gemstone Earrings

This is just the tiniest sampling of handmade jewelry, wire wrapped jewelry, tree of life pendants, full moon trees, glow in the dark jewelry, 14k gf pendants, gemstone earrings and more found in the PhoenixFire Designs etsy shop! Please feel free to browse our catalog or contact us to get something custom made to order!