Stunning, semi-precious Rhodolite Garnet rondelles in a bright raspberry pink color are set in sterling silver wire to form a beautiful Tree of Life pendant.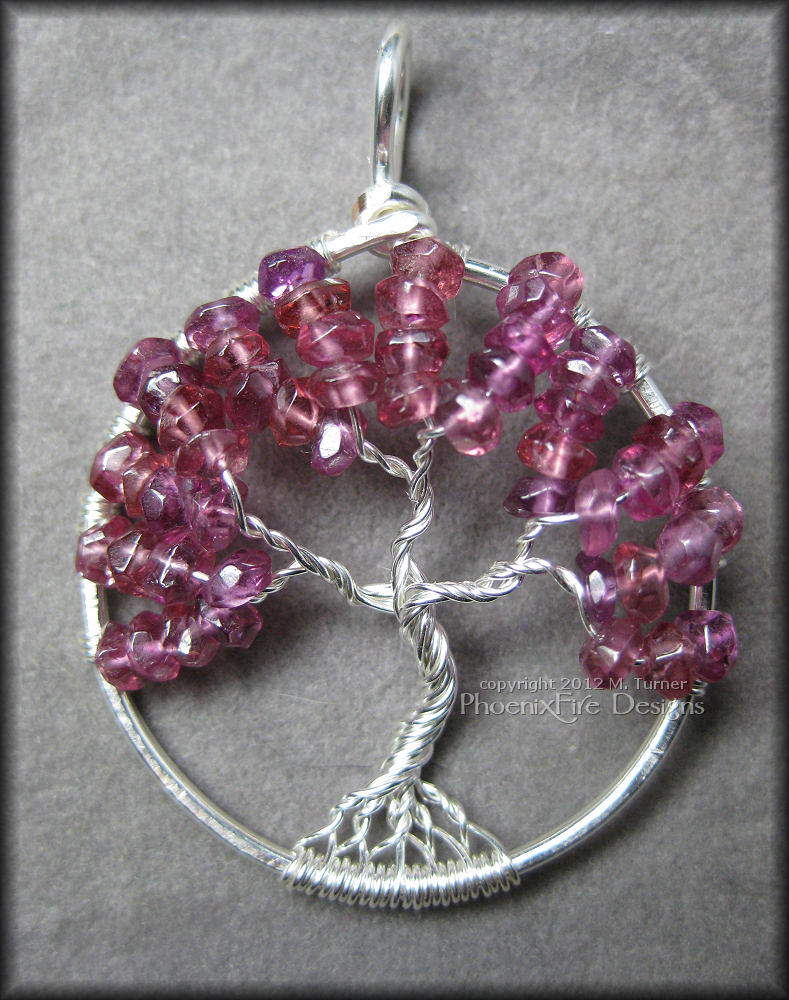 The Tree of Life is a concept that's been featured in myth, story and legend literally all around the world. Since ancient times, people have used variations on the theme. Connecting all things – the realms of the spirit, the physical, the Divine and the mundane – the roots of the Tree and the branches touch all things and bring them together in harmony.
This pendant is handmade using painstaking wire-wrapping techniques. Hand hammered sterling silver plated wire frames and encircles the pendant, and then sterling silver plated, non-tarnish wire is used as the roots, trunk and branches of the tree.
Rhodolite tends to be lighter in color than most other kinds of red garnet. Rhodolite comes from the Greek word "rhodon", meaning rose. Many courageous discoverers and travelers wore garnets for protection, as they were considered popular talismans and protective stones. Garnet is a natural, semi-precious gemstone associated with the planet Mars, the zodiac sign of Aquarius and the birthstone of the month of January.
The Rhodolite Garnet rondelles used in this piece are tiny and beautiful. Each is approximately 2-2.5mm and a lovely raspberry color. In different lighting, the full range of colors shine and you can see a variety of redish purple hues.
Measuring approximately 1.5″ in diameter (not including bail), it's a lovely size both for everyday and special occasion wear.
Available for purchase HERE.