It's been over a year since I've offered one of my award-winning agate slice trees but I'm happy to report, I have one up on the shop right now!
A stunning amethyst purple agate geode slice is the base for this wire wrapped tree of life pendant featuring green and purple fluorite in sterling silver wire.
This pendant is handmade using painstaking wire-wrapping techniques. This is an even more complex piece from my normal ones as I built a tree "growing" up an agate slice base. Non-tarnish sterling silver plated wire frames and encircles the slice and is used as the roots, trunk and branches of the tree.
The leaves are in the complimentary gemstone, fluorite. Formerly called fluorspar, fluorite has a wide range of colors and is a beautiful stone because often more than one color occurs in a single piece. I've selected a purposefully staggered color of stones ranging from the palest green to the deepest amethyst purple to give the piece vibrancy and beautiful spread of color.
This pendant is approximately 2.5″ H x 1.75″ W not including bail. This is a bold, statement piece. Keep in mind that this is a natural stone and is not a perfect oval. Part of the charm of this piece is that it is truly one-of-a-kind by Nature.
I've offered a handful of agate slice trees in the past but it's been about a year since one was available. They are labor-intensive to make and thus a rare item on the shop. If you like it, please do not wait as duplicates are not possible due to the unique nature of the materials used. This piece is literally unique and absolutely one-of-a-kind and of course you will receive the exact pendant shown.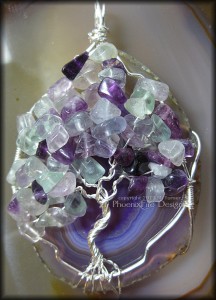 With the colors and tones used (the deep purples very much like amethyst) it would also be a great gift for someone born in February. Amethyst is the birthstone of February and this definitely has that kind of colorway and feel to it!
Available for purchase HERE. While it lasts!