Adding new items to the shop to help pay for my medical bills. Here's one of the newest creations!
A little spin on my typical bird nest pendants, this one features a four egg nest in champagne colored glass pearls but also has a dangle accent of additional pearls. It's set on an 18.5″ Figaro chain.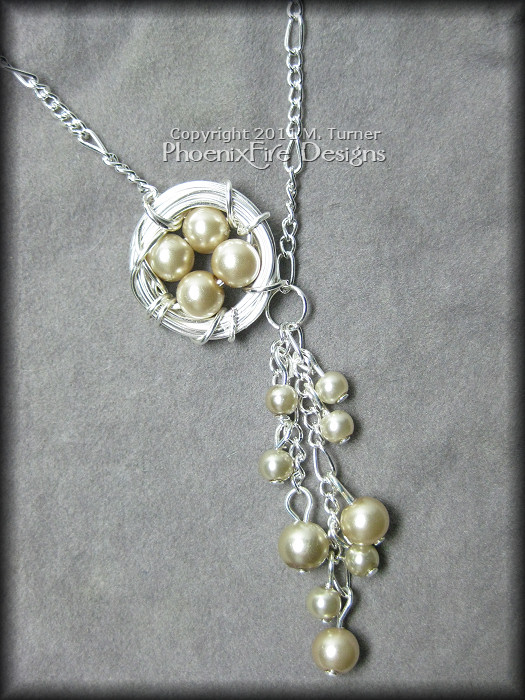 I started with a simple bird nest. Non-tarnish sterling silver plated wire makes up the nest and nestled inside are four glass pearls in a champagne (taupe) color. Dangling on one side of the nest are two chains accented with more matching glass pearls in two sizes. The dangles hang asymmetrically off the one side for a neat accent.
The pendant is set on a sterling silver plated Figaro chain measuring approximately 18.5″ long. It's finished with a lobster claw clasp. The bird nest and dangle measure approximately 3″ long.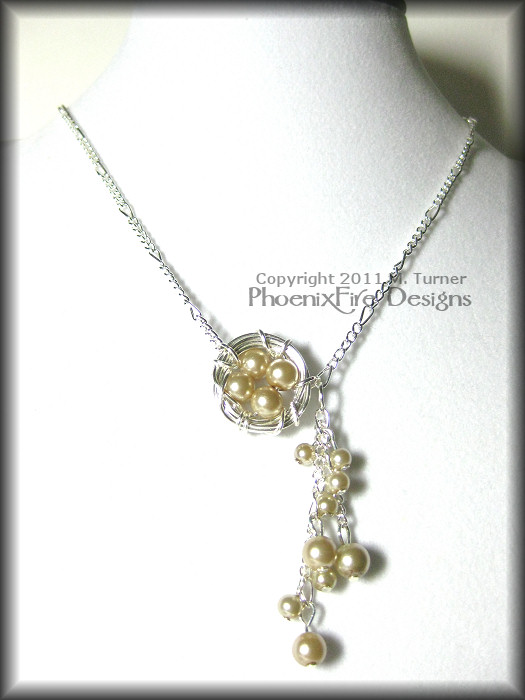 This piece could easily be a bridal jewelry item with it's pretty champagne tones. It would look lovely with a wedding dress and could symbolize the start of a new life together. Pearl is also the birthstone of June so it might make a nice gift for someone who's a June baby. And, bird nests also make lovely gifts for Mothers and Grandmothers as well. Or, maybe you just like it and that's perfectly fine too!
Available for purchase in my shop HERE.