Posted in
For Sale
,
Jewlery
,
Tree of Life
,
Updates
on 11/17/2010 05:11 pm by phoenixfiredesigns
A natural slice of variegated brown agate is the base for this unique Tree of Life pendant. Genuine Hessonite Garnet gemstones and sterling silver wire form the leaves and branches of the piece.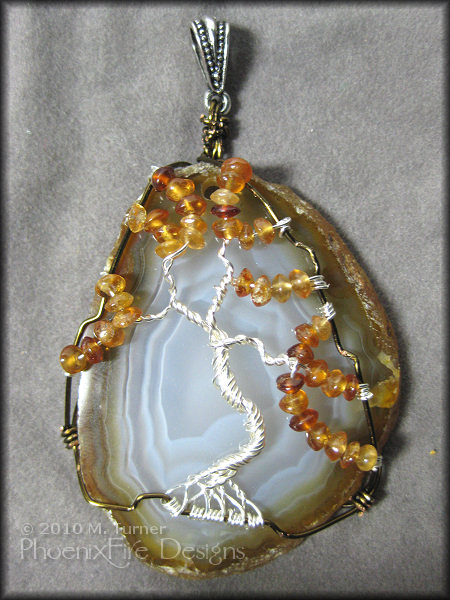 This pendant starts with a natural slice of agate geode in variegated tones of brown. Inside the agate are "rings" of amber and cream like you'd find on a slice of tree trunk. The stone is wrapped with antique bronze wire. Then using painstaking wire-wrapping techniques, sterling silver-plated wire is used as the roots, trunk and branches. It has been specially treated to be non-tarnish to keep it's luster. Genuine Hessonite Garnet rondelles form the "leaves" of the tree.
Tags:
agate
,
for sale
,
garnet
,
gem tree
,
gems
,
gemstone
,
gemtree
,
handmade
,
hessonite garnet
,
jewelry
,
one of a kind
,
original
,
sterling silver
,
tree of life pendant
,
unique
,
wire wrapped
,
wire wrapping